May 2008
This site now available as an e-book download for a nominal fee of $3.
More about the Diet -
Typical day's diet
Candida-safe Recipe Collection
Muscle Testing
(Applied Kineseology)
My Experience with Muscle Testing
Acknowledgement &
Thanks to the Doctor
Archived Guestbook Entries As of April 1, 2012, the guestbook run by Gear was discontinued.
E-book:
A downloadable &
printable summary
Bridget's Story - Toxic Poisoning from Mercury
Krissy's Story - a product called Nopalea brought her back to health and got rid of her candida and fibromyalgia.
Linda's Experience with Alkaline Water
Alternative Proven Cure Testimonial - Traditional Chinese Medicine (TCM)
Jennifer's Story - Forever grateful
Amy's Story - Cellular Detox Drops

Please note that there is an FAQ to this website. Email me if you have questions.
Make sure your Reply settings are correct!
Many, many people have asked me how they can thank me and I have never asked for anything. If you want to, you can make a donation to this site to help cover the cost of it.
New page added May 5, 2008

E-book now available -
Over 80-page PDF file
Only $3.00 !!

May 17, 2016
Total e-books sold to date: 17
(I just want you to know I'm not making a million dollars with this effort, so please don't badmouth me for "making a profit off sick people". That is not my intention. This is a small compensation for the thousands of hours I have put into answering emails every single month for 15 years. Sorry if I'm defensive about this, I'm really quite upset at the nasty emails I have received. And it's not like I'm holding anything back, because if you want to print directly from the website, go ahead, it's free and always has been.)

$3.00 for the PDF printable summary

IMPORTANT: This e-book does NOT contain recipes, nor the links to them. This entails copyright issues. Recipe links are continually changing.

You do NOT need a special cookbook for this program! Ask me why not!

Please note you do not need to be a Paypal member to make a payment through Paypal. Your credit card information will not be divulged to me.

As soon as I receive a notification of your payment, I will email you the e-book. I am online every day. If you do not receive your e-book within 24 hours, email me!. If someone knows a way that I can automate the process, please let me know.

This entire site is now available as a PDF e-book file with over 80 pages, for a nominal fee to cover the fees that Yahoo (formerly with free Geocities) now charges me because of the bandwidth this site requires, and to cover the cost of the time and effort that I put into maintaining this site, and for the many hours I spend every single day answering emails.

I have been doing this since 1995 for no charge, no profit, no commission, nothing.

I can tell by the emails that I get that many people need a hands-on document that they can refer to, read for encouragement, refer to for meal ideas, use as a motivational tool. I have been suggesting to people for years to print my story and put into a binder, and document their own journey. For me it has been invaluable to have a food diary whenever I have had health problems. There is nothing like being responsible for your own health, and journaling a recovery story is a very rewarding experience. What I did not know, however, was that my site was all over the place, and is really not in any printable form.

So for all the people who asked me if I would write a book some day, I have done it. What I have not done, however, is printed a book full of recipes. I maintain that you donít need a special cookbook if you learn what is allowed on this program, and how to use those foods to prepare delicious healthy sugarless meals. See my Frequently Asked Questions (FAQ) about why you donít need a cookbook. God bless you all for reading my story, and I wish you well as you embark on your own road to good health.

What you get: more than 80-page document containing all the pages of this website, including a Table of Contents, all the pages on this website, including a carb counter.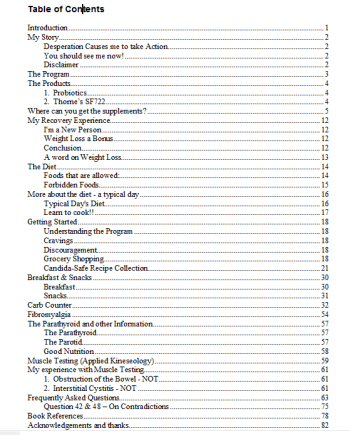 Here is the Table of Contents, click it to enlarge it.
Click the Buy Now button below and charge it to your credit card through Paypal, which is encrypted and secure - and you will not be divulging your credit card information to me. I am not a merchant - Paypal is handling our transaction (and charging me a fee as well). I will email you the document when your payment is made. Thank you.